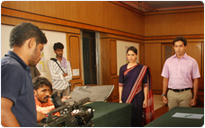 Corporate Video Production
Targeted, High Quality & Cost-effective Video Creation
We provide end to end video solutions, from script writing, HD video shooting and video post production services, creating a wide variety of audio visual communications to cater to your specific objectives. Our state-of-the-art video studio tie-ups ensure that we deliver best-in-class editing and visual effects (VFX) to add the right touch of magic or gravitas to the final product.

Over two decades of experience in film and television production, coupled with corporate communications expertise, ensures that we tell your story in the most engaging and effective manner possible.

Be it product videos, video case studies, company profiles, promotional or marketing videos, training videos, executive addresses or sales tools, we create quality corporate videos that connect with your target audience.