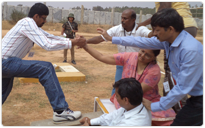 Corporate Training
Out Bound Learning (OBL) Patterned On Defence Training & Assessment Methods
We offer a series of Outbound Learning (OBL) interventions based on active experiential learning, self-realization and team based activities, aimed at leadership assessment, team building, employee orientation and corporate training.

These management training programs are designed and delivered by senior defence personnel trained at the elite Defence Institute of Psychological Research, (DIPR), New Delhi and who have served as GTOs in various SSBs across the country.

Our OBL facility, which is far from the hustle and bustle of the city and yet easily accessible through state and national highways, features an outdoor obstacle course that mirrors those at SSB facilities across the country.
Employee Induction Programs
Inducting new employees into the organization and impressing the organizational culture, values and market strategy upon them is vital to the productivity and engagement of the new talent pool. Acquisitions, mergers, rightsizing and downsizing pose vital challenges that require the organization to develop a proactive, innovative method of communicating key organizational values to cultivate, retain and motivate their people.

Suthradhar, in association with Olive Green has developed employee induction programs that can play a significant role in helping new employees understand the organization's business, vision and values and enable them to imbibe the unique culture in a positive manner.

Experiencing a series of outdoor activities with the organizational values as a backdrop, not only deepens the learning about the organization's culture but also ensures increased retention of key principles and philosophies.

Key Benefits
Communication of organizational values and vision to new inductees
Facilitating transition from campus to corporate world
Impressing the importance of interdependence over independence
Building interpersonal relationship between team members
Team Building Programs
Our team building programs, enhance inter personal communication, provide insights into team members' thought processes and motivations, and creates a positive environment for process improvement and self realization within the team. 

These programs are designed to address unique challenges being faced by the team in their professional environment which could be affecting productivity, team morale and individual growth. Some of the common objectives that we try and achieve though these training programs include breaking silos, building trust among team members, understanding the big picture, working towards a common goal etc.

Key Benefits
Building a shared culture, integrating new organizational structures, managing transitions, and expanding perceived limits of performance.
Reinforce importance of team unity and commitment
Break pre-conceived notions and create a platform for open, two-way communication
Provide insights into interpersonal styles and their impact on team performance
Enable team members to understand lesser known behavioral aspects of each other
Build higher levels of trust and enhance interactions between team members as they meet a wide range of challenges
Leadership Training & Assessment Programs
Being part of the management brings with it the requirement for leadership qualities like unpartisan judgment, rational thought and response, healthy confrontations and pragmatic behavior even under stress. The focus should be to keep the organization above self or department and see the bigger picture at all times. There is a constant need to interact and exchange ideas with people at various hierarchies in the organization while being the driving force of one's team.

Our training intervention is primarily aimed at creating challenging situations where individuals are forced to introspect and identify behavior and practices which are dysfunctional to the context of their roles within the team. They hence identify areas for change and transformation that can enable them to becoming more effective, better aligned, more focused, with higher levels of trust in one another as they meet similar challenges at the organization level.

Key Benefits
Identification and development of Leadership traits to successfully manage situations involving strategy, goal setting, planning, resource allocation, empowerment, and decision-making.
Create an environment that fosters introspection and self discovery
Enable improved communication and healthy feedback
Impress the idea of the big picture and organizational goals
Improve interpersonal relationships through high level of engagement
Personality Development Programs
Personal and professional effectiveness hinges on the individual's ability to perceive situations and challenges, process information and data, relate and interact with peers and work towards a common goal. This cannot be effectively taught through theory within the confines of a classroom. Unfamiliar challenges in wholly new environments facilitate self discovery and enable active learning that can then be implemented in a corporate environment.

Key Benefits
Stretch beyond perceived individual limits
Gain a renewed sense of purpose and commitment.
Develop interpersonal skills to relate with confidence in a group and individual situations
Learn skills to enhance group dynamics
Build effective communication skills that enable enhanced performance and productivity.